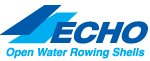 Used Echos & ACE Racers on Sale
Used Echo Rowing Shells are hard to come by with Echo Rowers keeping their boats for a life-time of rowing benefits and pleasures.  When available, we make demo and an occasional previously owned Echo available for purchase.
To insure quality is as represented, all used boats are inspected and shipped from the Echo Rowing Factory in Eliot, Maine or available for pick-up at the Little Harbor Boathouse in Marblehead, MA.
We make every effort to accurately represent the condition of used boats in photographs and strive for our customer to be more than satisfied with their investment.  That said, we prefer customers to inspect and choose used boats themselves.  Out-of-the-area rowers have equal opportunity to purchase with the understanding that all sales of used boats and blems are final.
Payments on demo and used boats are to be made with bank check or cash. Credit card only for deposits please. Note: Prices do not include oars.

We ship everywhere. Contact us for a quote.
Call us today on any of the below boats: 781-990-3552 or Email Us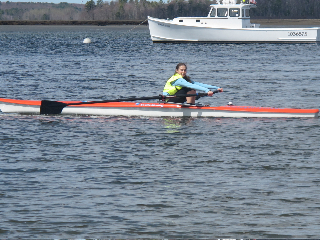 Used Boat Listings
| | | | | | | | |
| --- | --- | --- | --- | --- | --- | --- | --- |
| Year | Model | Deck Color | Reg# | Description | Price | | Photos |
|  '13 | Islander | red |  EWU90215H313 |  Brand new. Never rowed. Priced to sell. | $4150 |   |  SOLD |
|  '11 |  Echo | yellow |  EWU806D101 | 2011 Echo, factory reconditioned, Blackburn Challege winner! Surface blemishes. | $3,000 |   |  SOLD |
|  '07 |  Echo  | Turquoise | EWU80499E707 | Faded Gelcoat & surface scratches. Priced to sell with Dreher Oars! |  $2950 |   |  SOLD |
|  '08 |  ACE Racer |  Red |  EWU10106A808 |  Mint! Factory reconditioned ACE Racer. Perfectionist original owner. |  $5350 |   |   |