Used Echo Rowing Shells For Sale:  Buy or Sell
If you are looking to sell or buy a good quality used recreational or open water rowing shell -- we are here to help!   We buy, consign and sell lightly used equipment. 
For Private Sellers: we have the only qualified network of rowers eager and ready to buy your well-cared for Echo Rowing Shell.  This network was developed over the past 8 years of our professional services and Little Harbor Boathouse facility engaged in buying and selling Echo Rowing Shells.  
We make every effort to accurately represent the condition of used boats in photographs and strive for our customers to be more than satisfied with their investment.  That said, we prefer customers to inspect and choose used boats themselves.  Out-of-the-area rowers have equal opportunity to purchase with the understanding that all sales of used boats and blems are final.
Payments on used boats are to be made with bank check or cash. Credit card only for deposits please. Note: Prices do not include oars (unless noted).
Call Maryellen Auger for more information on purchasing a used boat or to sell your shell: 781-990-3552 or Email Us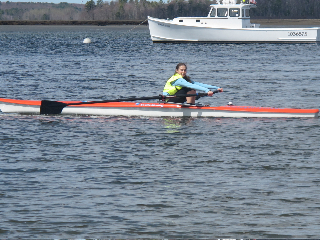 Used Echo Rowing Shell Listings
| | | | | | | | |
| --- | --- | --- | --- | --- | --- | --- | --- |
| Year | Model | Deck Color | Reg# | Description | Price | | Status |
| '07 | Echo | white | EWU | Well loved, cared for with annual re-conditioning by Fred Perry.  | $3000 |   | SOLD |
|  '11 |  Echo | yellow | EWU | 2011 Echo, factory reconditioned, Blackburn Challege winner! Surface blemishes. | $3,000 |   |  SOLD |
|  '07 |  Echo  | Turquoise | EWU | Faded Gelcoat & surface scratches. Priced to sell with Dreher Oars! |  $2950 |   |  SOLD |
|  '13 |  Islander |  red | EWU |   Brand new. Never rowed. Priced to sell. |  $4150 |   |  SOLD |