Little Harbor Boathouse
Little Harbor Boathouse buys and sells used Echo rowing shells in good to excellent condition.

Human-powered Water Sports Sales, Rentals, Programs
Launched as a recreational and open water rowing center in 2009, Little Harbor Boathouse has evolved into the premiere Boston North Shore human-powered water sports center and Hobie Kayak and Standup Paddle Board Dealership.   We sell and rent a large variety of pedal-paddle and sail Kayaks and Standup Paddle Boards and offer:  hourly and Group Rentals for up to 60 paddlers, Summer Paddle Adventure Camps (ages 8-14), Kayak Fishing Guides and Meetups and Hobie Pedal-Kayaking Tours and Classes from our magnificent waterfront location. Our Water Sports Store carries a full line of boats, equipment and accessories to outfit your on-the-water lifestyle.  Our goal is to get you out on the water – for fun, fitness and recreation – what life at Little Harbor Boathouse is all about!
SUMMER SEASON
OPEN 7 DAYS/WEEK
Hourly, Group & Party Kayak & SUP Rentals for up to 60 paddlers
Mon-Sat: 9:30-6; Sun: 11- 5


Contact Information
•    Little Harbor Boathouse, 40 Doaks Lane, Marblehead, MA 01945
•    Phone: (781)-990-3552
•    info@littleharborboathouse.com
Visit us @ littleharborboathouse.com & LIKE US: on Facebook and Instagram!
Directions: Map the above location
By Car: From Boston Logan Airport, follow signs for 1A North.
Proceed 7.4 miles on 1A North into Lynn. Continue to follow MA-1A N. 1A North joins Lynn Shore Drive. Proceed on Lynn Shore Drive following indications to Nahant/Swampscott rotary. At the Rotary take 2nd "exit" on Lynn Shore Drive to Marblehead/Swampscott. The beach/ocean is visible on your right. Go through 2 sets of lights – thru commercial district. At the 3rd set of lights, fork left picking up Rt. 129. Drive 3.5 miles -- following this road through Swampscott and into Marblehead -- note: there are no further signs for Rt. 129 -- the road becomes Atlantic Avenue. Proceed on Atlantic Avenue into Marblehead commercial area. Follow left curve at "Shubies", continue straight thru intersection, past Tony's Pizza past small "green" on left to a stop sign (Marblehead information booth on your left. At Stop Sign, turn Right on Pleasant Street, continuing to the end. Turn left on Washington Street, driving straight through the lights, through 'Old Town'. Continue until Washington Street ends in a T intersection. Turn left onto Orne Street, then take an immediately right (at Little Harbor Offices & Residences sign) onto Doaks Lane. Follow to end of green, then sharp left keeping green on left & Little Harbor Marina on right. Park in lot. Enter 40 DOAKS LN. Follow signs into Little Harbor Boathouse.
Walking or biking: Washington Street to Orne Street. Walk down Orne Street forking right on to Gas House Beach Lane (on the right; just before the hill); cross over/under the chain & walk down the paved lane on your immediate right to the double doors (behind 40 Doaks Lane). ALL PARKING is at Little Harbor Offices lot at 40 - 80 Doaks Lane, Marblehead, MA.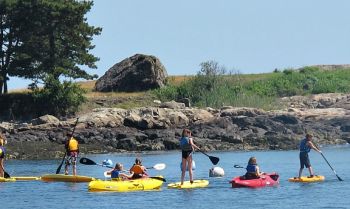 Visit Little Harbor Boathouse
40 Doaks Lane
Marblehead, MA 01945
Phone: 781-990-3552
Contact Us
"If you haven't done so you must go check out the Little Harbor Boathouse Open Water Rowing Training Center in Marblehead MA. I had the great opportunity to visit there last week and found the setup quite nice. As far as Open Water Rowing goes this is as good as it gets. It has quick water access out the back door to Little Harbor, the center has rack space and access to boats and it's very convenient to downtown Marblehead. If you are looking for a quick getaway or some different water to row in this is worth investigating. The surrounding open water is spectacular. You could spend a week there exploring and never row the same course twice. Happy rowing."
Jeff Nelson, Long Island, NY