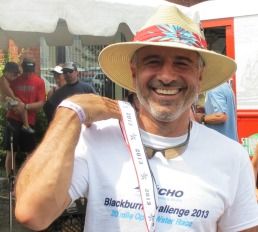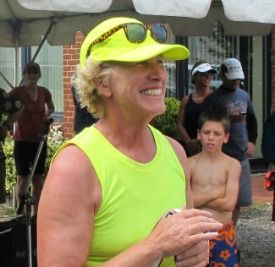 Paul Pugliese (top photo) & Eileen Perry (lower photo) take 1st Place in the Blackburn Challenge Touring Class
2015 Open Water Races & Touring Class Events

MAR 21, 5.5k Snow Row (Hull MA)
MAY 16, 5.5k Essex River Race (Essex MA)
JUL 25:  20 mile open water Blackburn Challenge  Gloucester MA
SEP 12: 24k & 11k Lighthouse to Lighthouse Race Norwalk, CT
SEP tbd: 5K Row Around Bumpkin Island, Hingham, MA. Info: 781-820-8941
SEP tbd: Wye Island Regatta, Annapolis, MD
SEP 19tbd: 25k Hudson River Challenge Nyack, NY. Info: 914-471-1920
SEP tbd: 10th Slocum Challenge Regatta, Dartmouth MA
TBD: Head of the Weir, Hull, MA
OCT 15: FISA Coastal Rowing Competition; Touring Class Trials, Pensacola, FL

OMNI T1X
ADVISORS:
MOLD DESIGN & BUILD
Naval Architect: Jim Taylor
COCKPIT STANDARDS
CRI Head Coach: Veronika Platzer
PROGRESS UPDATES
Visit us on Facebook
DIMENSIONS:
Length 19 ft.
Beam 26 in.

WEIGHT:
to be announced

Row the new OMNI T1X

It was time and we are inspired to build the next-generation, cutting-edge, gold standard touring class open water and coastal rowing shell!  Available in spring 2015, the OMNI T1X is 19' long with significant design updates to maximize speed and performance in the roughest of conditions of off-shore racing.   We've modeled the OMNI T1X after the best features of U.S. manufactured open water shells and built-in the efficient, self-bailing open transom found in all European built Coastal Rowing Shells.  You'll find the slightly uplifted bow shape slicing through chop with ease, the self-bailing open transom efficiently shedding water against the roughest conditions; the long, tapered built-in keel tracking well and the hull shape & stabiity necessary to catch, lock-on and drive past the competition in the roughest of open water stretches. Meeting the maximum length for Open Water Competition Touring Class shells at 19', the new OMNI T1X is light, stiff and ready to deliver optimal speed and performance for our most competitive endurance rowers and a boat to last a life-time for recreation and fitness rowers.  Are you ready for a BIG UPGRADE? Row OMNI T1X beginning spring 2015!

2014 Race RESULTS!  Congratulations Open Water Rowers!
Lighthouse to Lighthouse Race - Sept: Another coastal rowing victory! Echo Rower Paul Pugliese (2:16:48) beat all of the sliding seat boats including 24' racing singles by over 1 mile in yesterday's Lighthouse to Lighthouse 14 mile open water race on Long Island Sound off Norwalk, CT. Echo Islander Rower Carl-Henry Piel (2:28:22) came in second in the touring class. For detailed results visit: http://www.lighthousetolighthouse.org/#!results/c1l9x

Blackburn Challenge 2014 - July: Echo Rowers for fantastic times and finishes in yesterday's 20 mile open water race! 1st Place Women's Touring: Eileen Perry (3:18:01). 2nd Place Men's Touring: Jim Brassard (3:00:41); 3rd Place Men's Touring: Mark Allen (3:06:37); Carl-Henry Piel 5th Place (3:12:03); Howard Simon 6th Place (3:34:40) out of a field of 12 touring class men rowers.
2013 Race Results
On July 20th, 2013, 390 athletes competed in all manner of human powered water craft rowing and paddling a race course that circumnavigates Cape Ann off Gloucester, Massachusetts in the 2013 Blackburn Challenge.

Echo Open Water Rowers rowed through excessive heat, against the tide, wind and currents to win 5 of 6 medals in the 27th annual 20 mile open water Blackburn Challenge on Sat. July 20, announced Echo Open Water Rowing's International Marketing and Sales Agent, Maryellen Auger of Little Harbor Boathouse, Marblehead.  Congratulations to Touring Class Rowers Eileen Perry in 3:51.22 (1st place Women), Paul Pugliese 3:18:00 (1st Place Men), Mark Allen 3:34:14 (2nd Place Men), Carl-Henry Piel 3:36:56 (3rd Place Men) and Maryellen Auger in 3:57:55 (3rd place Women).

The chop, wake, swell and cross-current water conditions of the Blackburn Challenge perfectly showcased the ability of the Echo shells. The boats are built for stability, safety, speed and performance in varied water conditions. The boats punch through waves; with stability at every part of the stroke, the rowers could apply maximum power even in the harsh water.

Echo Rower Eileen Perry from Marblehead Rowing Club won the Women's Touring Class in a time of 3:51.22. Her victory was a comeback for her 1st Place in the 2011 Blackburn Challenge. Paul Pugliese from Greenwich CT won 1st Place in the Men's Touring Class in a time of 3:18:00. In his touring class boat, he beat 2/3rds of the field of sliding seat racing class athletes as well. Maryellen Auger, in her 5th year as Echo's International Marketing & Sales director, claimed third in the women's touring class. Coming in under four hours, this race was a huge personal accomplishment, made possible by the Echo rowing shell. This was 3rd Place Mark Allen's 6th Blackburn challenge, and by far the hardest in his opinion. The rough conditions left him with assurance that the Echo shell is the boat for him. Howard Simon, from Marblehead Rowing Club, finished 6th in his first ever Blackburn. Carl-Henry Piel, from Boston, before launching, shared " I consider myself to be an intermediate rower at best, having started late last October, my objective is merely to finish."  With a 3rd Place finish, he accomplished his goal.  The Echo was the perfect sliding seat open water boat for these rowers, allowing them to test themselves mentally and physical, supporting their success.

            Echo Rowing was founded in 2004 by Douglas Martin, Lorna Martin-Perry, and Ted Perry.  Douglas and Lorna's father, Arthur Martin, founded Alden Rowing Shells and gave birth to recreational open water rowing in the 70's. 10,000 Aldens were built by Ted Perry. Working beside his father for 30 years and designing the Alden Star,  Doug Martin designed Echo models to maximize performance, speed, and safety for recreational and competitive open water rowers facing changing conditions on oceans. Echo Rowing's innovative, cutting edge designs replaced the outdated recreation shells of the 70's.. They also embody a strong local commitment and dedication, built in the same factory located in Eliot Maine that created the many Alden Stars and other earlier models.

Echo Rowing shells are rowed year-round in colder climates and by serious open water scullers in open water racing and touring class competitions.  Echo Rowing Boats are also great learn-to-scull boats for youth and adults alike.  Novices spend time from the start learning the stroke rather than learning how to balance the boat and stay upright. The slightly lifted bow enables rowers to punch through chop where traditional sliding seat shells are stopped. The built-in keel tracks well in cross-current and wind – the conditions of last Saturday's Blackburn Challenge. The ability to easily launch from a beach or a dock is another benefit. Roll gunnels splash water away from rowers and provide convenient carry-handles and easy re-entry in an infrequent or chosen capsize situation.  The unique maintenance-free, folding riggers enable easy set-up and transport.

Over the last nine years, and at Saturday's Blackburn challenge, the Echo Open Water Rowing shell continues to prove itself as the cutting-edge open water rowing shell, for recreation and competition.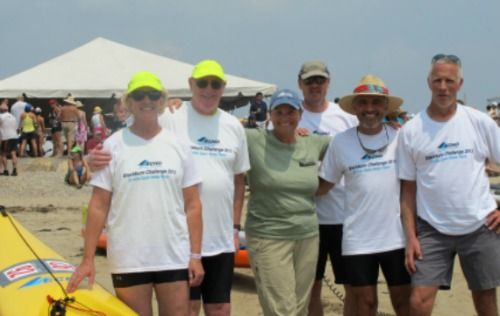 Congratulations to Blackburn Challenge  Echo Rowers: Eileen Perry 3:51.22 (1st place Women), Howard Simon, Paul Pugliese 3:18:00 (1st Place Men), Maryellen Auger 3:57:55 (3rd place Women), Carl-Henry Piel 3:36:56 (3rd Place Men) and Mark Allen 3:34:14 (2nd Place Men).